The Oscars 2022 was undeniably a night to remember. The occasion witnessed historic wins, the now-viral tensed moment between Chris Rock and Will Smith, and not to forget, the best Red Carpet outfits. Having adhered to pandemic precautions for two years, the red carpet sparked in full force at the 94th Academy Awards. A-listers appeared more than ready to step up the style as they rocked everything from bold colors to skin-baring silhouettes.
The stars didn't disappoint in their efforts and had even stunned their colleagues by hardening their fashion taste, making the red carpet louder and glitzier. Many of Hollywood's biggest stars did deck out in eye-catching jewelry, dapper tuxedo, and even stylish gowns for the post-Oscar occasion, including Vanity Fair's yearly celebration. From Kirsten Dunst in Lacroix to Luisa Ranieri in Atelier Versace, the best-dressed celebrities from the Oscars are listed below.
Zendaya Wore A Shimmering Valentino Skirt And Cropped Blouse With Bulgari High Jewelry.
Demi Singleton In Miu Miu. Her Lavender Dress Was Beaded On The Bodice And Sputtered On The Skirt.
Alana Haim In In A Louis Vuitton Column Dress With Laps And Laps Of Pale Cream Sequins.
Kristen Stewart In A Pair Of Chanel Shorts With A Neatly Cut Tuxedo Jacket And A Silk Shirt And A Pearl Necklace.
Luisa Ranieri Dressed In Atelier Versace.
Serena Williams In A Gucci Baby Pink Pleated Gown With Shoulder Pads And Black Lace Trim On The Neckline And Matching Gloves.
Penelope Cruz In All-Black Chanel Gown.
Lupita Nyong'o In Prada. Her Leopard Sequin Dress Was Designed With Pink Cat Spots And Shards Of Gold Spangles At The Hem.
Timothée Chalamet In Louis Vuitton.
Zoë Kravitz In A Dusty Pink Saint Laurent Dress, Paired With A Diamond Necklace, Understated Makeup, And Audrey Hepburn-Esque Baby Bangs.
Renate Reinsve In A Louis Vuitton Gown, Paired With A Sleek Side-Part, Rust-Hued Eyeshadow, And A Berry Lip.
Philippe Rousselet And Liya Kebede Dressed In Alaïa.
Venus Williams In Elie Saab White Floor-Length Number With A Neckline Featuring A Silver Trim And Raven Locks Styled Big And High.
Vanessa Hudgens Dressed In A Michael Kors Collection.
Uma Thurman Dressed In Bottega Veneta.
Andrew Garfield In Saint Laurent.
Maggie Gyllenhaal In Schiaparelli Haute Couture Black Column Gown With Statement Gold Accents Across The Front And A Scoop, Off-The-Shoulder Neckline.
Simu Liu Looked Dapper In Versace.
Tracee Ellis Ross In Carolina Herrera. Her Red Dress Had A Trumpet Skirt, And A Double Strand Pearl Choker.
Jamie Dornan And Amelia Warner. The Actor Opted For A Simple Black Tuxedo While His Musician Wife Amelia Stunned In A Gold Sequined Gown With Floral Detailing.
Kodi Smit-Mcphee In Bottega Veneta.
Benedict Cumberbatch In Giorgio Armani And Sophie Hunter In Dior Haute Couture.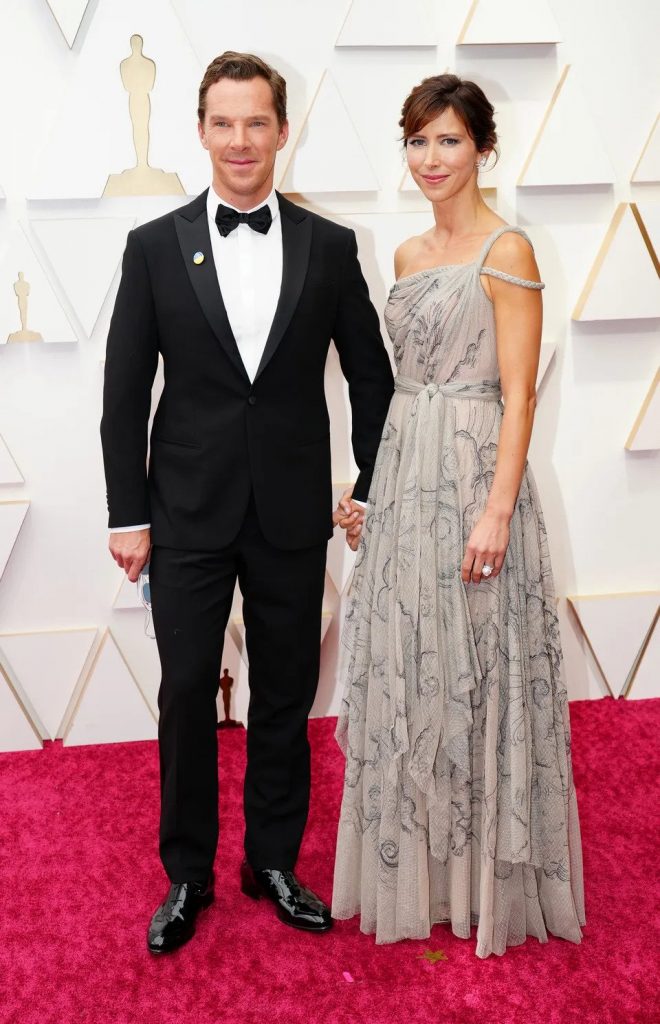 Kirsten Dunst Rocked A Deep Fuchsia Christian Lacroix Silk-And-Tulle Ruffled Strapless Gown.